Haunting Your House for Halloween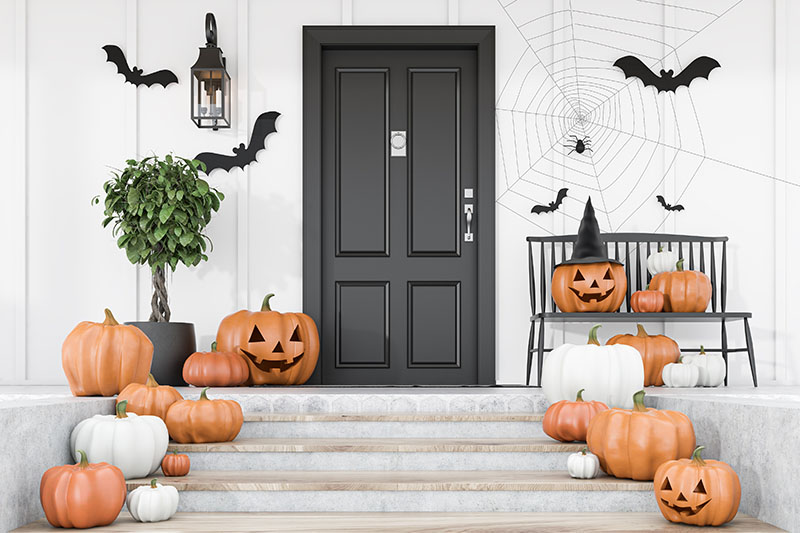 The spookiest time of year is a great opportunity to show your spirit with your home décor. Here are a few frightfully fun ways to haunt your home inside and out this Halloween.
Cobwebs: Welcome real or fake eight-legged friends with cobwebs draped over your bushes, front porch, or garage. You can find white webbing at most craft stores and pull them apart to customize a large or small spider web. Make sure to clean up once the season has finished to keep your decorations environmentally-friendly.
Spooky lighting: Changing out your normal porch light with a festive purple, green, or orange light can make your Halloween sparkle.
Pumpkins: Nothing says Happy Halloween like a cheery jack o'lantern smiling back at you. You can go traditional with a toothy grin or get more creative using a stencil. Don't limit yourself to Halloween-themed pictures. You can also carve the logo of your favorite sports team, a beloved character, or your family's monogram. If you can imagine it, you can carve it!
Paint and cardboard: You can use leftover paint and cardboard to create all kinds of décor for your yard. Fake tombstones, monsters, and ghosts are all popular choices. Attach a paint stir stick or board to the back to prop them up. If you have a saw, you can make your shapes out of plywood and use them year-after-year.
Decorating your home for the holidays is a fun way to celebrate for many homeowners. You can customize your décor to fit your tastes, space, and traditions. You don't need to have a ghost in residence to bring the Halloween spirit to your neighborhood. But if you do have a ghost nearby, these decorations will make them feel right at home.